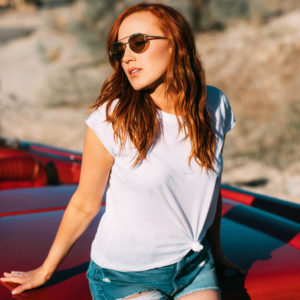 Singer-Songwriter Kara Connolly writes songs to make a difference in young women's lives. She was inspired to do so after being tired of hearing songs on the radio that degraded and undervalued women. Her goal is to empower and connect with the next generation of young women, inspire them to recognize their own self-worth, and reject the treatment of her generation and past generations.
Kara began her musical journey singing Shania Twain's "Man…I Feel Like A Woman" on a summer cruise ship talent show at the age of six. This experience led Kara to write fully-fledged relationship songs at a time when her stuffed animal 'Doodle Bear' was the only man in her life.
She had seen songwriting as a hobby and went off to study Theatre at USC, serious about becoming an actress.  She had been gifted a guitar in her senior year and even though she was still focused on acting, she would stay up late to write songs. After college graduation, she discovered through writing and recording with a friend that music was fulfilling and she felt drawn to it after being offered opportunities to audition and play gigs.
Kara would sell out the iconic Hotel Cafe in Hollywood (this past July) before she ever released a single song. A talented and prolific songwriter, she would go on to have a succession of single releases beginning with her debut song, "Life in Rearview" in July 2018. Since then, she has followed up her single "Nice Guy" (August 2018) with two more singles, "Abuser" (October 2018) and most recently, a cover of The All-American Reject's "Swing Swing" (October 2018).
Her forthcoming full-length debut album, Life In Rearview, is slated to drop in early 2019.  In addition, Kara is working on many different projects for next year.
I interviewed Kara via email about her "Nice Guy" single and lyric video (around the time of their release), her upcoming album, her musical journey, the memorable experiences from her West Coast tour, and much more.
Do you know what Kara's superpower is? Watch her video at the end of the interview for the answer!
Congratulations on your latest single, "Nice Guy". What is the theme or concept behind the song? What inspired it?
Thank you! I wrote "Nice Guy" as an acknowledgment of self-worth. As a reminder to myself and to my friends to never settle for less than the love and respect we deserve. I wrote it at a time when a lot of my friends were waiting around for guys who never called or who left things open-ended, wondering what they did wrong and thinking things would be different the next time he reached out (like clockwork). Repeat the cycle. Then there were the songs on the radio. Girls singing things like, "It's fine if you don't call me tomorrow, just tell me you will tonight," and me thinking, "If you tell me you're going to call me tomorrow, you better freaking call me tomorrow!" The song was born out of these experiences, and others, compounded.
My goal was to create something fun and honest that you could sing to, with hopes that after a second listen you may realize you're singing something empowering
. Or maybe you never realize it. Maybe it's just a song to sing along to in the car with your best friends. And that's great too. But my hope is that the message subconsciously seeps in one way or another. That it can encourage men to embrace their true selves in a society that rewards hyper-masculinity and, for everyone, when faced with the choice, to pick a partner who shows them unconditional love and respect.
What made you decide on a lyric video for "Nice Guy"? Did you come up with the design for it? What was the process?
Truthfully, I decided on a lyric video because I had just created a music video for "Life in Rear View" and was feeling a bit burnt out, but still wanted to give everyone something visual. I really threw myself into the filmmaking process for "Life in Rear View," learned many lessons along the way, and was feeling inspired to do something different. That said, "Nice Guy" has always been an incredibly colorful song in my mind and, truthfully, I'm proud of the lyrics in that song – how they simultaneously convey something fun and also, hopefully, important. My boyfriend, Jack Litchfield, is a true "Nice Guy" in every sense of the word and spent probably about 100 hours designing that lyric video. I told him that I wanted something colorful, that I wanted the red convertible to make a reappearance as a through-line and made a few nit-picky fixes here and there, but truly I give him 99.9% of the credit on this one. He is so skilled and such a hard worker. I still see little things that break, move, or change to the beat that I didn't notice when I last watched the video. 
Your debut single from earlier this summer was "Life in Rear View" and is the same name of your forthcoming full-length album. What is the concept of your album? What do you want listeners to experience? 
I chose the title, "Life in Rear View," because the song is about having a hard time letting go and feeling stuck in the rearview mirror as life passes you by, but eventually jumping in the driver's seat and moving forward. All of the songs on this record were written by me and are about my life over the past few years, so the title felt fitting.
The album is essentially a journey from breakdown to breakthrough, made possible by taking strides in discovering my self-worth along the way and letting go of what no longer served me.
I would love to encourage others to jump in the driver's seat of their own lives, let go of what no longer serves them, embrace vulnerability, self-worth, friendship, and to never settle for less than the love and respect that they deserve. It's a process. I'm still learning how to let go and leave the past behind me, in the rearview mirror, to occasionally glance back on (or write a song about).
On your "Life in Rear View" video you give a special thanks "to everyone who sent in items and/or letters to be burned in this video representing either something or someone that no longer serves them".

 

Can you tell us more about this?
Yes, the "exes" items and letters I burn at the end of the video were all sent in from actual fans, friends, and family members relating to letting go of something or someone that no longer serves them. We wanted there to be a communal aspect of the video. The burning sequence was never intended to be a vengeful act. In certain spiritual traditions, burning rituals are believed to aid in the release and healing of the past; they represent letting go of all attachment and leaving space for what's new – freedom. I thought, perhaps, we could all find a bit of that freedom together. I love to get others involved in what I'm doing, whenever possible. It makes the whole experience more special for me, and hopefully for them as well.
The "Life in Rear View" video was shot using Aerial Drone Cinematography. Can you explain more about that process and how that idea came about? What was the experience like while filming?
I think that, essentially, we wanted to showcase the expansive nature of being out in the middle of nowhere—both in the isolating sense and also in a freeing sort of manner. We were hoping that filming the location from that aerial lens would help portray that it was just me and that box of stuff in this wide open desert and that this was an internal, personal journey.  
It was incredibly cool to watch the drone footage on set. Truthfully, it was a lot of driving back and forth down a desert road in a clunky, retro Buick—letting cars pass and learning how to turn and get such an old car to speed up or slow down. The white dress footage was caught just in the nick of time, right before sundown. Watching back the drone footage when filming made everything feel surreal to me.
Explain your production process.
Bill Lefler produced my album at his studio called "Death Star Studios" in Los Angeles (near Larchmont Village and Koreatown). Basically, I had written roughly 80 songs prior to the recording of this album. I sent Bill 38 of those and he narrowed it down to 15 or so of his favorites. There were 5 or 6 that were definite, but the rest were mostly just selected depending upon what I was leaning towards each day in the studio. We recorded the album over the course of 2 months (apart from one or two tracks that we were testing and working on prior to starting a project together).
I had sent Bill a list of tracks that I wanted my record to be "in the style of." I can't say that we totally stuck to that. That said, my record is very percussive and most of the tracks I sent over had an upbeat, highly percussive element. It was really just approaching each track as an individual and looking at what it uniquely needed. Bill would usually start adding things pretty immediately and then, as the process continued, I would either take elements out or add an instrumental hook idea or layers that I felt would make the song more dynamic.
About halfway through, I started to realize that there was a bit of a theme and story-line in the tracks we were picking (loosely, but still there) and so it informed some of my later selections for songs to include.
Can you tell us what the twist is when you say you write "relationship songs with a twist"?
Many of my songs are relationship songs, but I like to twist convention as opposed to fall trap to it. I've noticed that a lot of relationship songs (admittedly some of my favorite, in fact) either paint the woman as the victim or as fawning over some perfect male specimen.
I would like to think that my songs take a more empowering outlook, in giving myself the autonomy and encouragement to walk away and/or to love someone wholly, but without the codependence and instead as their own, separate, unique person.
There are a lot of "empowerment" songs out there, but I feel like sometimes they seem to lack vulnerability. There is this "You can't touch this!" vibe or persona that I often don't connect within classically empowering music. The truth is that all of these experiences truly did happen to me. Sometimes I did get hurt. I used songwriting as therapy and as a reminder of my own power to change the situation and as an objective outlook on the situation (when sometimes I could barely see the forest from the trees). My break-up tracks don't tend to point fingers, but instead acknowledge that things maybe didn't work out as I had hoped and that it's left me with feelings to acknowledge, but not hatred. I like to look at relationships from a forthright and more objective standpoint when possible. Because, as I said, I use songwriting as a reminder to myself of what to do. It feels like my higher self-talking to me when I am believing thoughts that aren't necessarily objective.  Hopefully, that makes sense and answers the question!
Tell us more about singing Shania Twain's "Man! I Feel Like A Woman" in a cruise ship talent show at the age of 6.
Well, I remember having my hair in a french twist, then ripping the hair clip out and whipping my hair back and forth on the beat…so there's that…
What inspired you to write fully formed relationship songs at a young age?
I have no idea. I just loved creativity and my parents really encouraged it, from writing film scripts with me to taking me to act in an indie film. Between Britney, Madonna, and Shania, I had heard my fair share of "relationship songs" and so I started writing "Yeah, you're playing with me and I don't know why, but you're making me, making me cry…" when I was like 6 years old.
How did "Doodle Bear" get his name?
"Doodle Bear" was a bear that you could draw on with colorful markers that would then rinse out in the wash. He was purple and I loved him dearly.
What made you decide you wanted a career in music?
I started out wanting to be an actress and went to school at USC for Theatre. I'd always written songs and would sing in the shower as a hobby, but never pursued it seriously as I'm not one to give up on something easily and was terribly focused on acting. I can be a bit all or nothing in my approach. That said, it hit me that this songwriting thing wouldn't be going anywhere when I was gifted a guitar in college and spent my entire senior year writing music at 2 in the morning. Then, when I graduated, I would write and record songs with my friend Jon until 5 a.m. and yet left feeling fulfilled and happy. Acquaintances started inviting me to musical auditions or to play gigs and I felt drawn to give it a go, despite never having taken classes as I had with acting. Granted,
there are incredibly challenging aspects to pursuing a career in music, especially once you get down that road a little further,
and I had some catching up to do, but I realized that it was a path I was naturally walking down and will continue to.
You played a headlining set at the Hotel Cafe in Hollywood back in July. But you sold out the same venue previously, without releasing a single. What was your strategy for achieving this?
That's a great question. I guess my honest answer would be to be kind to people, support them, and they will show up for you in the most humbling of ways. It's also never a bad idea to have a friend open or vice versa. Leaning on your friends when you need them most is the way to go! Bring each other up so that it's a win-win for everyone involved! Those are always the best situations.
Have you considered having your music considered for TV/movie soundtracks? Why or why not?
I would love that! I've been incredibly focused over the past year in getting my releases out into the world and developing myself as an artist, but I would love to look more into that side of the industry.
You completed a West Coast tour this summer. What were your most memorable experiences, venues, and/or audiences?
I had a wonderful time with my friend, Carly Van Skaik, and cannot wait to get back on the road. Some of the most memorable experiences off the top of my head:
1) Staying in the most horrific frat house!
2) The cutest little girl buying all of our merch and coming up on stage to sing our songs, while playing the tambourine for an entire show!
3) Listening to the entire Serial podcast for 10-hour drives!
4) Visiting a nightclub in an aquarium!
You want to empower, inspire, and connect with young women of the next generation with your songs to make a difference in their lives. Have any fans reached out to you about how your songs have done that for them? If so, how did that make you feel?
I've been so thrilled to meet fans who have understood exactly the message I am trying to get across with this project.
I received a phone call from someone that a song I released made a positive impact on what they were going through in a way that I could have never expected. They broke down my entire "Life in Rear View" video and understood everything I was trying to get across, expressing that it left them in tears.
The other day, I Facetimed with someone who told me that my releases had inspired them to pick up the guitar and take piano lessons, which was very exciting to hear.
I also received a message this week about my new song "Abuser" that said, "Love your new tune. You take this topic and rather than be painful, scary and disempowering, once again, you recognize what's unacceptable and 'choose' to walk away (rather than complain and be the victim). You are such a great role model for younger (and older)."
It makes my day when someone acknowledges and recognizes what I am trying to do. There are truly no words for it.
Sometimes it can feel like you're not making a difference and so these little reminders help keep me on this path.
How do you think women can be better supported in indie music?
I think that women can be better supported everywhere, honestly. It starts with allowing women to have a voice. I've come across many people—particularly men in positions of power—who have tried to manipulate me, control me, tell me who to be, what to feel, and how to think. This needs to stop, globally. So many of my friends have left studio sessions in tears because of the misogyny or power play that is so prevalent in this industry (and also just the world). I think that we need to band together and let each other know who we've had positive experiences working with and also who we've had negative experiences with to help others along their path.
We need to commit to holding out and working with the kind, supportive people, even when we feel we have no other choice. We need female mentors.
Men seem to have male mentors, whereas women seem to also have male mentors (who often later try to sleep with them). The whole dynamic needs to shift. I don't entirely know the answer on how, but I do know that we need to continue having conversations about it.
What advice do you have for young women thinking about or are actively pursuing a career in music?
My advice would be to be prepared to have to fight for your vision every step of the way. I get personally invested in all relationships in the sense that I don't ever want to disappoint people and I always want to find common ground. I view my business relationships with the same care that I view my friendships. Unfortunately, I've found that many others don't see things that way. My friend uses a term I love called "ruthless grace." I think you protect the self-worth you have cultivated by kindly, but firmly, asking for what you need and expecting the respect you deserve. And being willing to walk away if you don't receive it.
What are your tour plans for 2019?
I plan to tour for this record and play a couple of festivals, but I don't have all of the details yet! Will keep you posted.
What projects are you working on for 2018/2019?
Expect my full record dropping in early 2019, another music video for an upcoming single, more visuals in general, live shows and also the beginnings of my follow-up project to "Life in Rear View."
Thank you, Kara, for the opportunity to interview you.
Thank you for the lovely, thoughtful questions!
BONUS QUESTION VIDEO: What is Kara's Superpower and how does she use it in her music?
Purchase "Nice Guy" on  Apple Music, Amazon, and Google Play.
Stream it on Spotify here.
Get updates on Kara's website here.
Follow Kara on Social Media:
Instagram – @karaconnolly
YouTube – karaconnolly
Facebook – mskaraconnolly
Twitter – @mskaraconnolly
Soundcloud: Kara Connolly