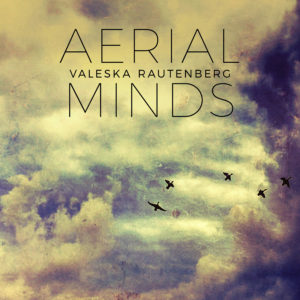 Berlin-based Valeska Rautenberg has talents that extend beyond her singer-songwriting abilities. She's also a composer, producer, worked as a voice-over actor, and a music teacher for many years. She was born in Berlin, Germany, to celebrated actor Klaus-Peter Thiele and painter, Rosemarie Rautenberg.
Valeska's musical journey began as a teenager when she discovered her true love was music. She started with vocal training in Jazz and Blues, as well as piano, songwriting, and production, and received a private scholarship by a renown opera singer teaching at UDK Berlin who took an interest in her. She learned styles and techniques that would enable her to sing many different genres.
Valeska has been a music teacher, an actress, toured with bands, and would later join Der Wilde Garten, the band of famous violinist Georgi Gogow, to name only a few of her many notable accomplishments. Her journey was interrupted for many years for personal reasons and writing music helped her cope during that time.
Learn more about Valeska's intriguing musical background in our interview with her earlier this year.
In 2017, Valeska returned to the music world as an indie artist. She released her ambient pop single "Midnight Children" in March 2018, followed up in April with the single, "All Is Forgotten".  Four months later, Valeska released Aerial Minds, a four-track EP that contains her previously released tracks along with two new ones, "I Am Weak and So Are You" and "Judas".  She has plans for three more EPs each dedicated to one of the four elements. This EP is the first in the series, encompassing the element of Air.
Aerial Minds is a soundscape of captivating melodies and introspective lyrics that take you on a journey to explore your innermost feelings.
All Is Forgotten
"All Is Forgotten" is the second release from the EP and a standout track.  Valeska describes this song as "an invitation for you to pause and remember all that has been with a bittersweet melancholy".
The song's intro is an engaging piano melody that softly makes its entrance. Valeska's ethereal voice pierces through the melancholy and glides with a silky quality over the reflective soundscape. From that moment on, she captures you with gentle but commanding vocals unleashed in this stripped down environment.
The verses that follow are a visual narrative that shines through Valeska's impassioned voice. Not only can you envision it but you can sense the emotional tug-of-war going on inside of her. The soft background vocals done by Valeska are a beautiful melodiously whisper in your ear. The lyrics convey a somber realization is effectively conveyed as she reflects on the past.
There is no building tension leading up to or anticipation of the chorus but when she gets there, Valeska releases a vocal mountaintop. The very high, angelic notes that she hits and sustains effortlessly. They feel otherworldly and combined with her haunting background harmonies, you feel as though you are soaring through the atmosphere. Then you experience her emotive power shift as Valeska gradually climbs down from the heavens and descends into a soothing lower register at the end.
The verses following repeat from the beginning with an exception. The last two lines have an airy call and response that cleverly sums up the song's theme. Valeska's somber realization that history repeats itself is answered with a thought provoking verse that resonates deeply.
At the end of the song, Valeska's vocals are showcased again but without words, sailing over the dark piano melody until all remains are the last notes fade away.
"All Is Forgotten" is a somber exploration of awakening our pleasant and painful memories when reminiscing about the past.
Midnight Children
The ambient pop single, "Midnight Children" is a standout track which we reviewed earlier this year:
Valeska explains the theme of her song as "loving and accepting your beauty and your ugliness; about living your life a little differently, more intuitively."  She says this ambient song is for everyone who sees themselves as introverts, seekers, believers, moon howlers, over-thinkers, and melancholy lovers, to name a few.
Right from start, Valeska's stunning mix of pop and bluesy vocals will cast their spell over you. The elongated words and angelic high notes have a mesmerizing quality. You can feel them envelop every part of your being while your body involuntarily sways in time to the dark melody.
There is an acapella feel to Valeska's vocals that rise above the slow, deep hitting drum beats and bass which produce a marching feel. At the 3:00 mark of the song, Valeska, and the background vocals are sung in the rhythm of a ticking clock creating a lovely haunting effect. If you close your eyes while you listen, you'll be swept up in a soothing wave of serenity.
Although this song walks on the dark side in terms of atmosphere, its lyrics elicit a powerful message of self-love and acceptance.
I Am Weak And So Are You
The first track on the EP is  "I Am Weak And So Are You" which is a composition Valeska refers to as "falling in love with human weaknesses."
The piano intro to the song is a gentle repetitive melody that sets the melancholy ambiance.  It is upon this soundscape which Valeska's calming vocals float on the first verses. There is a breathless quality in her voice that underscores the profound emptiness inside you that comes with the sorrow of losing everything close to you.
When she heads into the chorus she vocally builds a tension that tightens just enough then starts to let go in the middle. It isn't until the repeating of the first line at the end that Valeska releases her powerhouse vocals. She masterfully weaves the intensity of passion and heartache with just two words — forgive me.
After reaching the end of that repeat, Valeska soars into the stratosphere with an ending note in her higher register. As quickly as it fades, there is an immediate emotive shift and a blending technique of the next verse that brings us back. Valeska employs in this verse, robust vocals that overlap themselves like an impassioned echo, a clever reflection of the lyric "I'm loud, so loud inside".
From here, Valeska heads back into the chorus but without the same interpretation as previously. She digs in with her strong vocals with a lower register until the end. At this point, there is a curious sound bite of a phone dialing. This plays as a background landscape over which Valeska sings an emotional wordless melody. When she finishes, a "sorry, the number you have reached is no longer in service" message plays making you feel as though you have lost a connection to something or someone.
The song winds down hauntingly as you notice Valeska's vocals briefly are altered, fuzzy, and dark. Then you sense the soundscape change and her voice takes on a lighter quality. You become aware of an underlying exhaustion and sadness contained in the final chorus before the solo piano notes fade away.
"I Am Weak And So Are You" is a journey into experiencing loss and coming through it by embracing and acknowledging our weakness so we can be stronger.
Judas
The unreleased track on the EP is "Judas", a song that Valeska says is of how history repeats itself many times over and how finding someone to blame is never difficult.
A simple set of quiet, repetitive piano notes open the track. They deliver a melancholy melody that Valeska's serene vocals drift sweetly along in the first verse as she addresses the Judas of this piece. She is not confronting them but giving more of a comforting reassurance to this person that their fears are unfounded.
In the chorus, you can feel the change to small nuances in her voice as she is imploring this person to see things as she does. This tension gradually builds up with captivating higher, elongated notes that touch the sky. It continues to grow until Valeska's voice hits the highest level coming out of the chorus with a one-line verse. She ends on a climactic cliff as she finishes with a kind of frustration in her voice.
That frustration is the emotional turning point that carries into the next verse, as you feel her move further away from being empathetic. From here, there is a short jump back into just the first two lines of the chorus where the piano notes sparkle. On this backdrop, you feel the unique harmony created with Valeska's soft vocals on separate tracks, subtly trading off the two lines.
She then glides into a repetition of the next line which is asking this person from another angle to uncover not only what they fear but what has made them bitter as well. Valeska returns to her higher register once again, incorporating those sky-high, impassioned endnotes. You ride along the short piano interlude before descending back down off the vocal mountain peak.
The song heads toward the finish incorporating the emotive harmonies of switching back and forth between the last verses. You can sense her profound emotional appeal to this person one last time as her lower register trades off with her higher one, and you feel like time is slowly ticking away.
"Judas" lays out to us that history does repeat itself but we should learn from it and not be quick to place the blame elsewhere.
Very Highly Recommended. The vocal and songwriting talents of Valeska Rautenberg shine on Aerial Minds. On each track, she allows her exquisite voice with its beautiful haunting quality, to be showcased with the barest of musical accompaniment. Valeska writes deep reflective songs that cover the human condition with compassion and insight. She should be on your essential playlist and artist to watch list. Anticipation and curiosity will be high for which of the four elements she chooses next for her follow up EP.
Purchase Aerial Minds on these platforms (direct links): iTunes, Amazon, GooglePlay, and Bandcamp
You can also stream Aerial Minds here on Valeska's Spotify Artist Page
Follow Valeska on Social Media:
Instagram: @valeskarautenbergmusic
Facebook: valeskarautenbergmusic 
Music videos for Aerial Mind's tracks are on Valeska's YouTube channel: Valeska Rautenberg Music
Get updates and more information on Valeska's website.