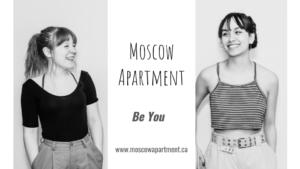 Moscow Apartment, a powerhouse feminist folk/rock group, is childhood friends Brighid Fry and Pascale Padilla. The band was formed in early 2017 and the release of their debut EP in the autumn of that year resulted in awards such as a Toronto Independent Music Award and Canadian Folk Music Award as well as accolades across their native Canada.
The teenage duo has been riding an impressive momentum of success ever since, racking up even more recognition and awards this year. They won the youth category for the Canadian Songwriting Competition as well as the 100,000 Slaight Music It's Your Shot competition, landed spots for high profile music festivals and much more.
Moscow Apartment is currently on a western Canada tour as the opener for Juno winners The Good Lovelies. They are also crowdfunding on indiegogo.com for their sophomore release, a full-length LP, to debut in early 2019.
"Be You", their new single released today, is a preview of their new material. Recorded at Pacha Sound in Toronto, it was produced by Moscow Apartment and Samantha Martin, and written by Frey and Padilla. The theme of "Be You" is learning to trust your gut instinct which often can be right. The song is about getting get bad vibes from someone you meet and don't know well.
This song, reminiscent of 90s folk/rock, opens with a laid-back blend of guitars, drums, and bass. Together they weave a slow, dreamy melody that breaks out into something a bit more upbeat for emphasis on the choruses.
From the opening vocal to the last resounding verse, there is an underlying intense conviction with every word Frey and Padilla sing. They drive home their powerful lyrics that are like an internal dialog of what your instincts are telling you about someone.  The words create some interesting visuals that communicate this, for example, the line "You feel wrong, too tight at the sleeves" conjures up the vibe of being uncomfortable.
Frey and Padilla trade off the lead vocal, showcasing their different but strong vocal styles. Frey sings with an edgy, raw emotion contrasting with Padilla's laid back, sky-reaching upper range. The duo's combination of vocals blends seamlessly into beautifully layered harmonies that soar in the choruses.   
Moscow Apartment has a definite winner with "Be You" and as a preview of their new music, makes it well worth the wait for the release of their LP next year.  This talented duo should definitely be on your Artists To Watch list.
"Be You" is available to purchase on their website's music shop    
Get updates on their music, tour, on their website  
Follow Moscow Apartment on Social Media:
Twitter:  moscowapt
Instagram: moscowaptband
Facebook: moscowapartment  
Listen to their music on:
Soundcloud  https://soundcloud.com/user-444943915
YouTube https://www.youtube.com/channel/UC1ehQQOn12aDw9Ev3ympS9w