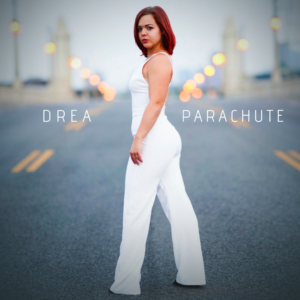 Singer-songwriter Drea dropped a surprise dance-chill single, "Parachute" on October 26. The Halloween-themed break-up anthem is a follow-up to her "Hometown" single released earlier this year.  The release is a project that began 4 years ago originally as a collaboration with LA songwriter/producer Teo Olivares. She then brought in dance producer/DJ Kayja, a long-time music partner to infuse new life into the track.
"Parachute" originated in Teo's shed-turned studio that provided Drea with some unexpected inspiration. While Teo was producing the main synth line at the beginning of the song, Drea spotted a spider crawling up a wall. As a result, she created the song's first line. The lyrics were inspired by "a ghostly feeling of betrayal felt after the end of a toxic relationship."  Drea explains, " "Parachute" is for the people who are finding the strength to finally own their worth and move on from situations that no longer serve them."
Drea is also a women's advocate, creating programs that empower and support women as well as serving on the Board of Directors of two non-profit organizations in Los Angeles that benefit women and youth in need.
On January 31, 2018, Drea launched Reclaim Movement a dance class open for all levels. The class empowers women to reclaim ownership of their bodies after the trauma of sexual assault through music and movement.  Drea told us more about it in our interview with her earlier this year.
She also organized and hosted the first For Her Concert Series in May 2018. The concert series is a live music event in Los Angeles that features performances by female musicians. Staffed and organized by an all-women team, the event benefits women in need.
In addition, Drea serves on the Board of Directors for The Ladybugs Movement, a non-profit campaign. The campaign works to bring feminine hygiene products to Los Angeles homeless women.
Just recently, she was voted onto the Board of Directors of ProjectMuszed, an LA-based non-profit organization which works to provide youth in need with opportunities in music education, performance, and higher learning.  Currently, Drea would like to expand her passion for non-profit and local government action and is applying to graduate programs in Public Affairs to accomplish this.
"Parachute" is a captivating soundscape that performs a haunting emotional choreography for your heart and mind.
The intro to "Parachute" is spiky synth line invokes a feeling of something creepy walking up behind you. The tension breaks and the melody smooths out as Drea's sultry vocals enchant you with the first verse. The alluring bluesy, huskiness of her voice creates a quiet tension as she confronts her lover that even the spider on the wall can see through the charade.
The next two sets of verses Drea cleverly vocally ratchets up her effort to elicit a confession. Her velvety lower register elongates each word then switches off effortlessly to higher notes as it floats along the eerie synth-fueled melody. At the same time, you can feel an ache in her voice as she urges her lover to come clean. In the chorus, Drea's emotion shifts noticeably to a warm, upbeat one as she tries to cajole him with the fact that he'd be better off staying with her.
Coming out of the chorus, there is a dramatic drop and the melody circles back to the synth intro for the next set of verses. Drea vocally transforms, smoothly matching the hypnotic up and down synth rhythm. Drea brings to life the clever lyrics that visually depict a "haunted" bedroom of betrayal in hopes of scaring her lover into revealing his secret.
In the second chorus that follows, it builds on all that has come before. The synth line makes you feel as though you are spiraling through the atmosphere. Drea's riveting vocals deliver a warning to her lover that he's out there with no parachute in a free fall. The melody transitions to a marching beat and her vocals become bright but with an interrogational tone as she reminds her lover that she has the power to save their relationship if he would just tell her what he did.
"Parachute" is a powerful anthem of confronting the toxicity of a relationship but being empowered to end it when the betrayal is too great to overcome.
Very Highly Recommended.  Drea showcases her superb vocal and songwriting ability with this track. Her R&B infused voice coupled with the ability to switch it up is captivating. She writes lyrics that are honest, authentic, and empowering that standout powerfully with enduring soundscapes. Make sure you have this track and all of Drea's singles on your essential music playlist as she is definitely an artist to watch. An album or EP in the future would be something to highly anticipate and without a doubt be an exceptional experience.
You can buy "Parachute" HERE on these major platforms.
Follow Drea on social media:
Website: www.dreaxmusic.com
Instagram: @dreaxmusic
For more information on Reclaim Movement:
Website: www.reclaimmvmt.org
Instagram @reclaimmvmt
Facebook: reclaimmvmt
For more information on the For Her Concert Series:
Instagram: @forherconcertseries
Facebook: forherconcertseries