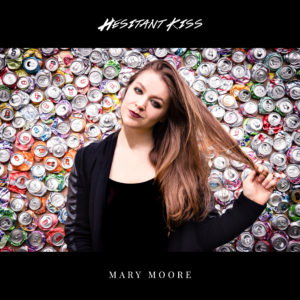 Indie folk/rock artist Mary Moore relocated to Nashville, Tennessee in 2017 after graduating from college, to pursue her music career full time. In June 2018, her debut single, "The Sinner", was released garnering 2K streams and receiving airplay on WNRN and BMR radio.
While attending the University of Virginia in Charlottesville, Mary was the music director for The Virginia Belles, an award-winning female acapella group.  Growing up, she sang in choirs, acapella groups, school musicals, and was the lead singer in a classic-rock cover band, in her hometown of Richmond, Virginia. Mary also loves to play trumpet, French horn, guitar, and piano.
Mary is known for being able to connect with people from all walks of life with her storytelling lyrics and for captivating stages. Her powerhouse vocals have been compared to Brandi Carlile, Adele, and their sweet, quirkiness with Regina Spektor.
In December, Mary will be recording three new singles and will release them separately in the first half of 2019. She is recording them with Collin Pastore who has worked with Lucy Dacus and Illuminati Hotties. The songs will be more "out of the box" with the instrumentation and Mary is excited to play with different sounds to achieve this.
"Hesitant Kiss", her second single, was released on November 1, 2018. Mary wrote the indie-rock song after a phone call made her believe the other person wasn't being honest about being happy in their relationship. The conversation gave her inspiration for writing the first lyrics of the song when the other person hesitated, not finishing their sentence, and as a result, "Don't stop in the middle of your sentence" was born.
The song's intro has an upbeat melody of keys and heavy drums that saunters along just enough to affix itself permanently in your head. But it is Mary's vocals that take center stage and garner your full attention when they make their entrance. The strength of her voice is controlled and sultry but has an impassioned silkiness that is equally commanding as it glides over the mellow soundscape of a warm, fuzzy guitar.
There is an absence of climactic tension leading up the chorus, but Mary lands a potent vocal knockout as she launches into it with her powerhouse vocals. You can really feel the conviction and the passion with each word; the hard emphasis on the word kiss and her elongated "s" on the end cleverly adds a touch of unspoken emotion that drives her point home.
After the dressing down of her lover in the chorus, you feel Mary shift back emotionally to her serene vocal approach from the intro as she betrays a little more of her feelings. There is a pronounced emphasis on the persuasive lyrics such as a distinctive growly emphasis on the word "hurt", and at the very end of the next chorus, she exerts a notable catch in her voice that permeates a subtle ache in the words "feel it".
Between the last two rounds of the chorus toward the end of the song, is a clever detour. At this point, you anticipate that this verse will again revert back to her soothing, velvety voice. At first, Mary's vocals do just that, as she confesses what she really wants is their love and for them to love her. But her vocals make a gradual climb until her robust voice soars at the end when she admits she already knows their answer.
From here, the song heads into the last chorus with Mary's tenacious vocals keeping score. The instruments fade away as she comes down from her fervent vocal mountaintop, leaving her to finish with a heartfelt acapella of "for you to feel it too".
"Hesitant Kiss" is for those times when you don't want to continue in a relationship where the other person isn't really happy being in it and can't be honest about how they really feel.
Very Highly Recommended.  Mary Moore's dynamic vocals combined with her gift for songwriting makes her a force to be reckoned with. "Hesitant Kiss" takes a personal experience and relates it to us in an authentic and captivating piece of storytelling. Mary should not only be on your watch list but on everyone's must-hear playlist right now. There will be high anticipation early next year when she individually releases her trio of new singles.
Buy "Hesitant Kiss" on all major platforms (direct links): iTunes, Amazon, GooglePlay
Stream it here on Spotify
Check out Mary's Artist Page: https://www.marymooremusic.com/
Follow Mary on Social Media:
Instagram: @marymooremusic
Facebook: marymooremusic
Soundcloud: Mary Moore